Police dogs were introduced to the North Eastern Railway Police at Hull Docks by Superintendent Dobie.
Inspector Dobson was given the task of setting up the unit and it was Dobson who decided to use Airedale Terriers. The first 4 dogs were named Jim, Vic, Ben and Mick.
Jim became quite a celebrity featuring newspaper articles at the time handled by Sergeant Allison.
In the same year, the scheme was extended to Hartlepool, Tyne Docks & Middlesbrough.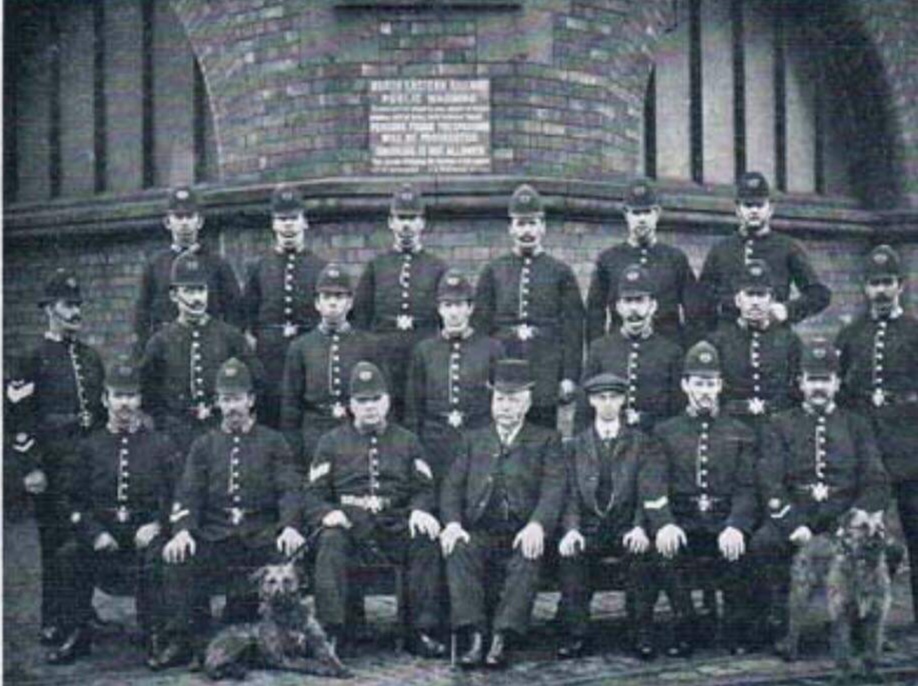 The use of police dogs proved very successful in the North East England with numerous positive newspaper articles. Training took place at Hull Docks with dogs then being sent to police posts with their new handlers.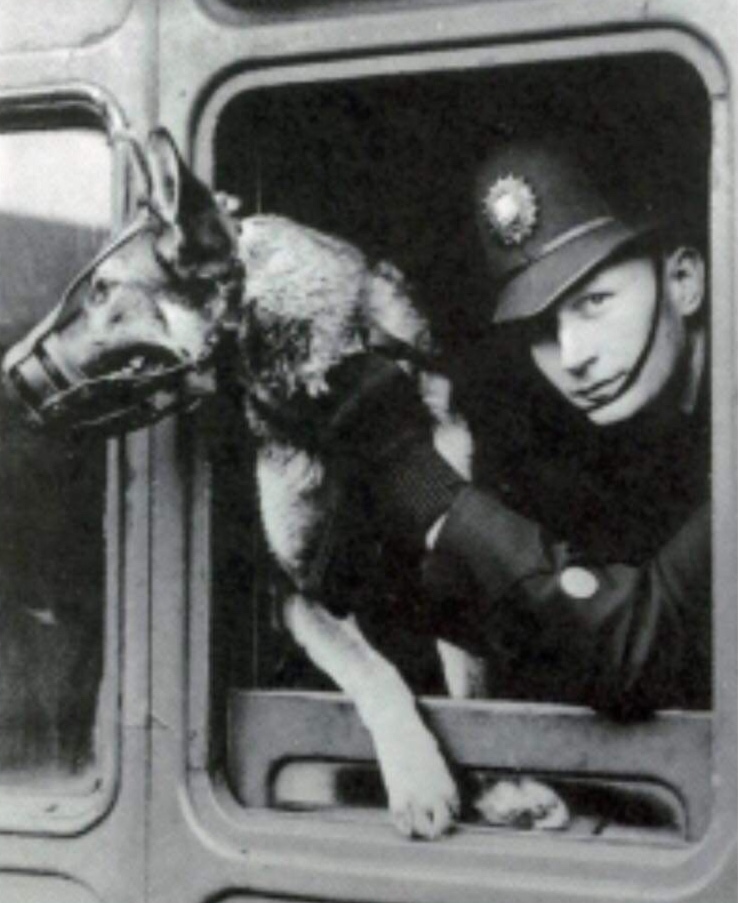 1914-1923: German Shepherds
Airedale's were conscripted into the 17th Northumberland Fusiliers(North Eastern Railway Pioneer Battalion) together with their handlers to serve in WW1.
Hull dog trainers decided to move away from Airedale Terriers & Alsatians (German Shepherds) were to be introduced into policing, it was a gradual introduction.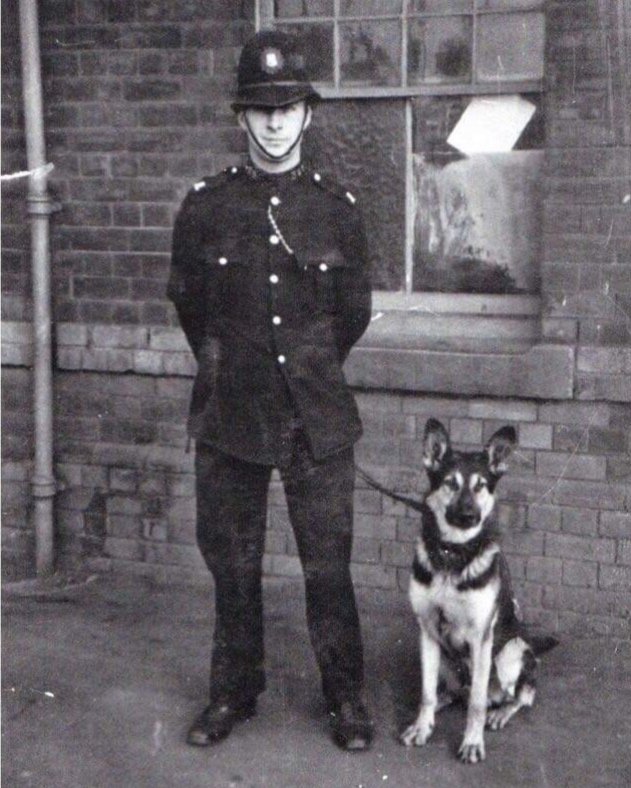 1930's - There was still some evidence that Airedale Terriers were being used in Cardiff Docks - It appears that any officer could take one of the few dogs out on general patrol.
During the 2nd WW there is evidence of the introduction of a large number of German Shepherds being used in Hull Docks although their use for security patrols doesn't appear to have been the norm at other ports…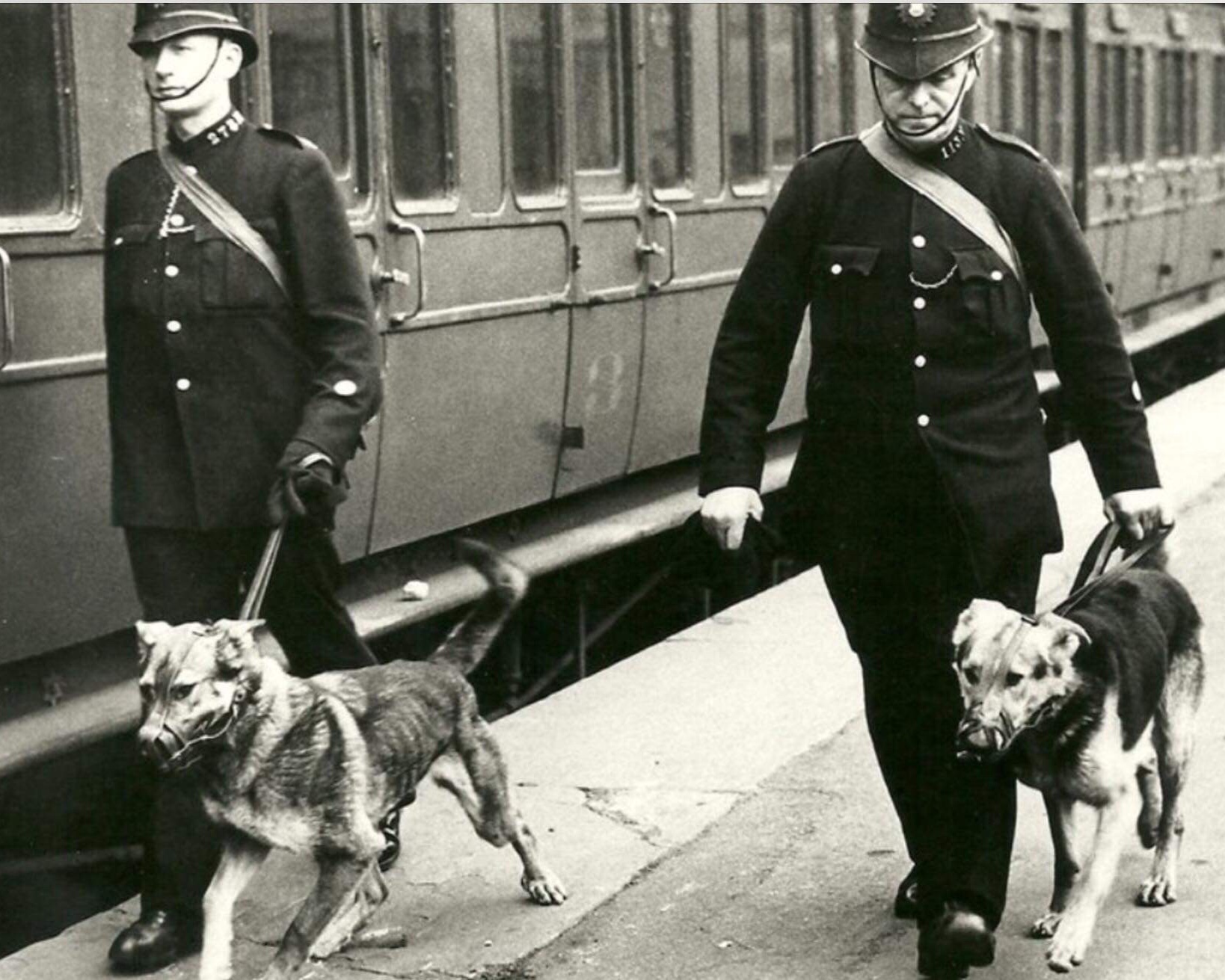 Following the end of WW2 Railway Police Forces started to be amalgamated into what became the British Transport Commission Police. A decision at this time was made to muzzle dogs whilst they were working. This led to the belief that BTCP dogs were more vicious that those being used by City Police Forces which weren't muzzled. A decision was soon made to dispense with the muzzle for all BTCP dogs.
1950's: Inspector Morrell and his dog Flash
1950's - The first BTCP Dog Training School was established at Hedon Hall, near Hull in premises that had previously been a convalescent home for horses.
The first person in charge of the BTCP Dog Training School was Inspector Morrell. During his tenure the forces dogs increased to 75. Initially dogs were gifted to the force but during this time Inspector Morrell began to breed pedigree German Shepherds.
On the first courses there wan't any proper course structure & new handlers were given just 2 days to learn the rudiments of handling their allocated dogs.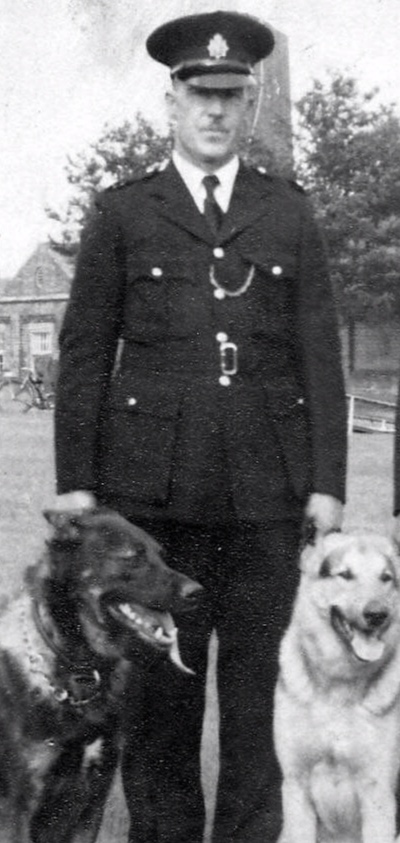 1960-1965: The Death of Inspector Morrell
Inspector Morrell remained in-charge of dog training until February when he suddenly died aged just 46 years.
1962 - Following the death of Inspector Morrell, Inspector Shelton was recruited from MPS to run BTCP's Dog Training. In 1946 he had joined the MPS & was subsequently involved in establishing their Dog Section.
Police Dogs were based around the country in London, Crewe, Carlisle, Leeds, Hull, Hartlepool and Derby & were introduced at Southampton Docks.
1964 - A total of 4 police dogs were introduced at Southampton Docks and were also introduced to Birmingham & South Wales. BTP started their regular yearly 'Police Dog Trials.'
1965 - The Dog Training facilities at Hebdon Hull were closed and Training was moved to Elstree.
1966 - The decision was made to increase Birmingham Dog Section to 3 officers.
PC Donovan & PD Fritz based at Kings Cross, featured on an ITV programme highlighting the dangers associated with committing crimes on the Railway.
PC Hampton & PD Boss were responsible for the excellent arrest through tracking evidence that led to the arrest of 3 people for theft of copper wire. The skills of police dogs & their handlers were being used in many beneficial areas.
The Southern Alsatian Training Society held their Championship Working Trials in East Sussex under Kennel Club rules which BTP entered. They finished 2nd & competed with police dogs from 5 Home Office Forces.
1967 - Ownership/Licensing use became formalised with the publication of Force General Order 245 and an allowance of £1 7s 6d was allowed for keeping a PD at home.
1960's-1970's: Football Crowds
1960's/70's BTP dogs were in regular use as part of policing football crowds/disorder.
1970-1975: Increase in BTP Dog Section
The BTP Dog Section had increased to 70 which was near to the figure of 75 that Inspector Shelton had set in 1962.
In 1973, PC Murphy (Southampton Docks) trained his dog to detect cannabis being smuggled through the Docks and in 1973-74, arrests made by Dog Teams had risen from 738 to 908.
Despite that fact the then new BTP CC Haslem wasn't impressed & took the decision to reduce the section to just 24 police dogs, many established handlers & dogs were to lose their jobs.
In 1975, the following day it was announced that the BTP Dog Training School at Elstree was to be closed having only been opened in 1965, & the Dog Section would be reduced.
Chief Inspector Shelton Retired following the closure of Elstree in 1976 and following the closure of the Dog School any remaining handlers would attend HO Training facilities.
In 1979, PC Ablard(Ginger) is promoted to Sergeant, tasked with overseeing the remaining Dog Section nationally. At this time morale was rock bottom owing to the devastating cuts in 1975. Sergeant Ablard became a force dog section legend and commenced rebuilding the section.
1980-1982: PC John Mellor
1980, PC Parkinson became the first dog handler to undergo training with a dog detecting explosives.
PC Alan Morecock became a legend within the Dog Section (Birmingham), trained by PS Ablard. He had a number of dogs, his first dog PD Jazz won awards in 1982/83.
1981, PC Gardner joined the Dog Section. His initial training took place at the Lancashire Police Training School, him & his dog Tushka came top of their course.
PC John Mellor(Cardiff) & PD Chas were regularly used on Q Trains in order to catch trespassers & vandals.
1982, the rebuilding of the Dog Section had started following its decimation in 1975, a new BTP Dog Training School was under construction at the Forces Training School Tadworth.
Police Inspector John Lloyd was recruited from MPS Dog Section to increase BTP Dogs with the assistance of PS Ablard.
PC Margaret Lyall (Glasgow) became the first BTP woman dog handler (PD Denny).
1983-1989: Regular Use of Police Dogs
PD Major gave chase but was lost by his handler following a police raid, he was found hours later sitting outside the house of the person who escaped earlier.
1984, new BTP Dog Training facilities opened at Tadworth under the command of Inspector Lloyd (considered the best in the country).
The Dog Section had increased from 24 Dogs, back up to 39, incl. 2 expo dogs & the BTP Dog Trials started again…
1985, Police dogs were being regularly used to assist with the fight against cable crime & arrest of offenders.
1987 - PC Harrison & PD won the force dog trials at Tadworth.
PC Judy Bailey became the first women dog handler in London. She attended a HO course for Alert Detection Passive Dogs, it was a first for BTP.
In the following 2 years BTP was used as pilot for other forces, a successful partnership with over 4000 stops & 1500 arrests.
1989, Lockerbie, two BTP Glasgow dog handlers attended the scene & assisted with body recovery & evidence collection.
1990's: London Underground
The BTP Dog Section continued to grow in size and skills. BTP's Dog Section utilised their numerous skills throughout the decade, in areas of terrorism, public order, tracking offenders, passive drug operations, searches and community events
1993 - London Underground Division increased its dog section to approximately 1 Sgt and 9 PC's.
1995 - PC Jenkins and PD Zac won the force Dog Trials at Tadworth
1996 - John Lloyd retired and Peter Heard joined BTP as Dog Training Manager. Peter had 30 years experience with MPS and 8 years as senior HO instructor at MPS Dog.
2000-2005: London Bombings
2001 - BTP Dog Section raised £960 with quiz nights at Tadworth for the "hearing dog services' PS Goodyear & PD Milo handed over the cheque on a visit to their Training Centre.
2003 - PC Hawkins & PD Keller won the Force Dog Trials they were entered in the London Regional Dog Trials as quests as they weren't allowed to enter the National Police Dog Trials.
There was Greater use of the BTP drug detection dogs.
2004, following the bombings in Madrid the force ESD dogs increased from 6 to 32.
In 2005 the London bombings took place. One Handler PC Coleman & PD Vinnie worked in horrific conditions, PD Vinnie was subsequently awarded the PDSA Gold Medal for his work.
The Dog Training School Tadworth supported/managed many courses during this period developing the sections specialist skills.
2006-2013: Explosive Search Dogs
In 2006, a new much larger Dog Training School was opened at Tadworth. It was another sign of the excellence of BTP Dog Training, so much so other Forces were seeking its expertise. BTP at this time had 73 handlers nationally.
BTP's first Specialist Explosives Course was run at Tadworth further courses followed cutting down on costs.
2009, BTP recruit their first Malinois (Belgium Shepherds).
2010, BTP Dog Training moved to MPS Dog Training School Keston.
2010/12, BTP recruit an additional 10 explosive search dogs prior to the Olympic Games.